Dinner The More, The Merrier!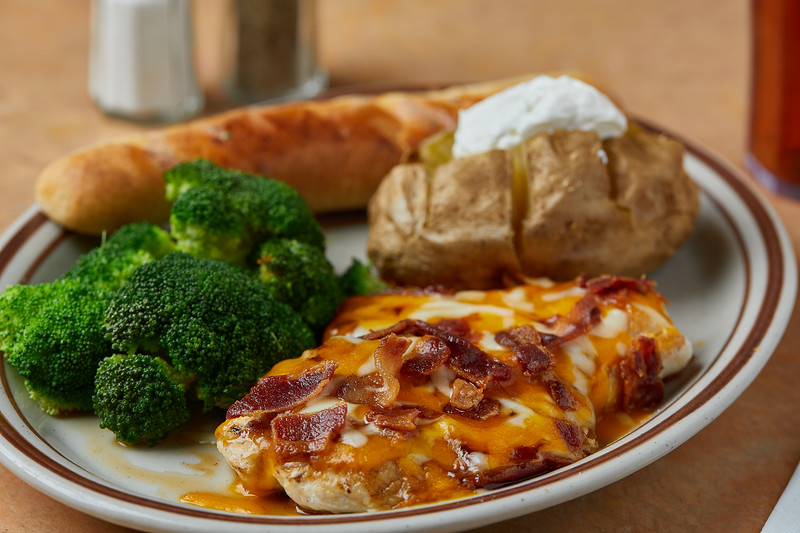 Bacon bourbon grilled chicken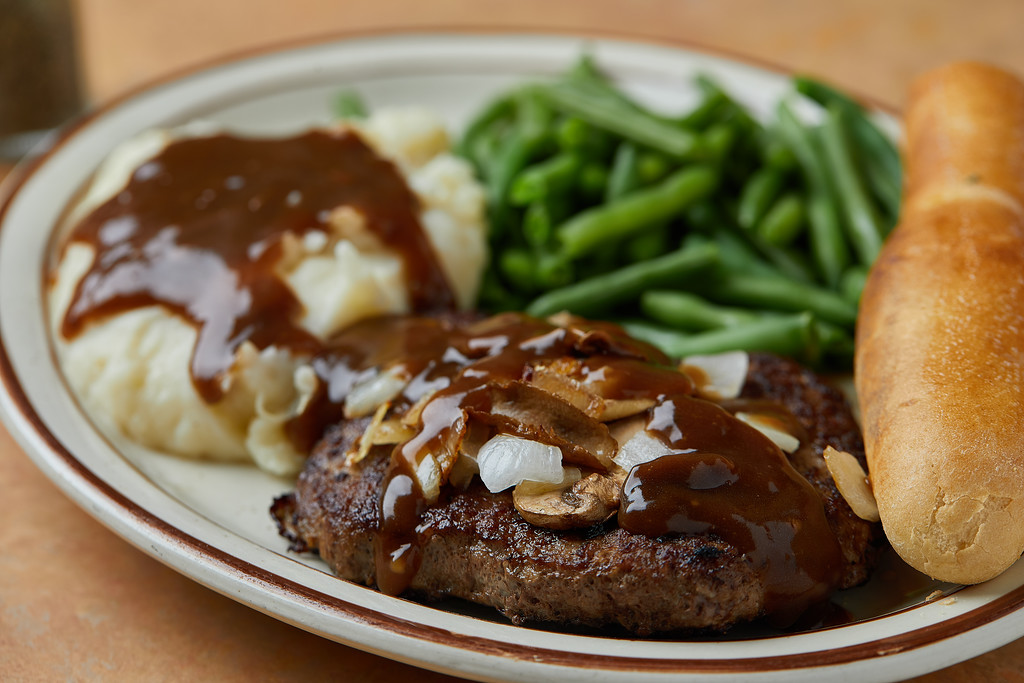 Served with any 2 sides and a bread stick, unless otherwise indicated.
Chicken Broccoli Alfredo* $10.49
Grilled chicken breast with fresh broccoli combined with Penne pasta and ladled with rich, creamy Alfredo sauce.  Served with a bread stick. Choose soup or salad.
---
Penne with Alfredo $7.99
Tender penne pasta topped with creamy Alfredo sauce and toasted bread stick.  Choose soup or salad.
---
Chicken Tenders* $10.29
Delicious strips of chicken breast, breaded and deep-fried to a crisp golden brown, with your choice of dipping sauce.
---
Bacon Bourbon Grilled Chicken*
Tender all-natural grilled chicken breast topped with hardwood-smoked bacon and Bourbon sauce, finished with Cheddar Jack cheese.
Lunch (1 chicken breast) $9.49
Dinner (2 chicken breast) $10.99
---
Country Fried Fish* $10.99
Three pieces of hand-breaded white fish, deep-fried to a delicious golden brown.
---
NEW!

Fried Shrimp* $12.99
6 pieces of oriental-style breaded golden brown butterflied shrimp.  Dip it in cocktail or tartar sauce.
---
Country Fried Steak* $9.99
Our special version is lightly breaded, nicely browned and topped with plenty of our beef or sausage gravy.
---
Pot Roast $10.99
A hearty portion of, hand-shredded pot roast topped with plenty of our hot beef gravy.
---
Chopped Beef* $10.99
A juicy 8-ounce beef patty topped with grilled mushrooms and onions, covered with plenty of hot beef gravy.
---
Liver & Onions* $9.99
Tender liver carefully grilled and topped with lots of grilled sweet onions.
---
NEW!
Ham Dinner $8.99
A hefty portion of sliced Applewood-smoked ham served with your favorite two dinner sides.
---
NEW!
Smoked Pulled Pork Dinner $10.99
Tender slow smoked pork served tossed in Bourbon or Barbecue sauce.
---
NEW!
Steak 'n Shrimp* $14.99
Can't decide?  Have both!  Juicy USDA Choice Top Sirloin, perfectly paired with our oriental-style breaded fried shrimp.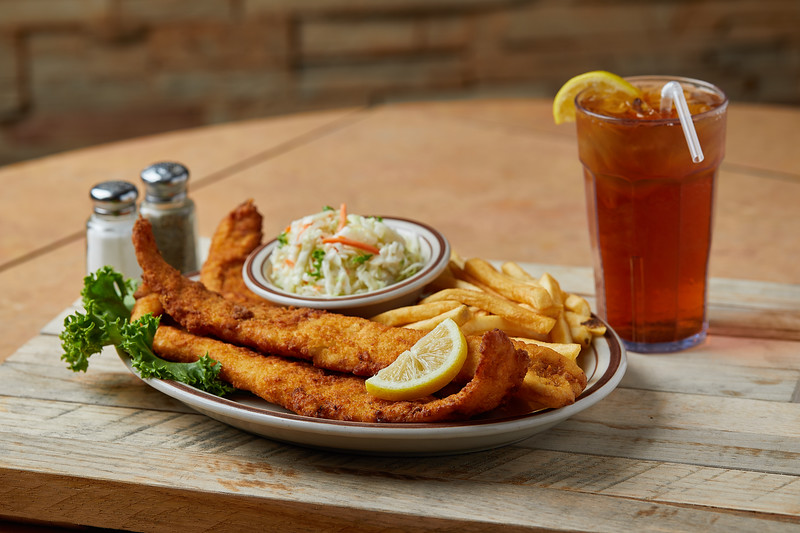 All-you-can-eat fish every Friday!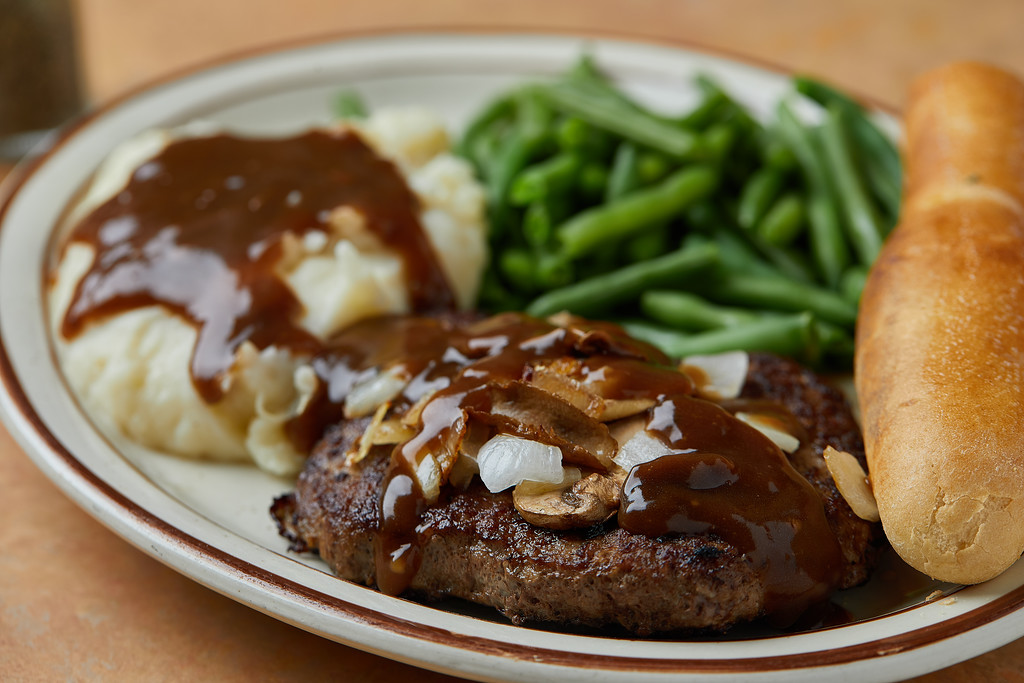 DINNER SIDES
Applesauce
---
French Fries
---
Sweet Potato Fries
---
Seasoned Curly Fries
---
Baked Potato
---
Mashed Potatoes & Gravy
---
Coleslaw
---
Vegetable
---
White Cheddar Mac & Cheese
---
Crock of Soup
---
Mixed Greens Salad
---
*Eggs and steaks are cooked to order. Consuming raw or under-cooked meats, poultry, seafood or eggs may increase your risk of food-borne illnesses, especially if you have certain medical conditions.