About Valley Dairy
Joseph Fleming Greubel, the original "Ice Cream Joe," learned to make ice cream at his grandfather's side when he was a small boy. His grandfather, Joseph A. Greubel, first manufactured ice cream commercially in 1884 in Derry, Pennsylvania. He was the first to do so in Westmoreland County. Later, in '85 or '86, he used a belt-driven steam engine to provide the power to turn the beater. Ice and salt provided the refrigerant. At one time, he had a contract with Idlewild Park (now owned by Kennywood Park) to provide them with three gallons of ice cream every Sunday during the summer months. The ice cream was packed with ice in a canvas bag and delivered by horse and buggy.
It was only natural that ice cream was made at the first Valley Dairy Restaurant, which opened in 1938. Mr. Greubel began by making small batches in the kitchen during the night when the restaurant was closed. Because of the popularity of that ice cream, it was necessary to buy a larger facility. Fairview Dairy, located at 3200 Graham Avenue in Windber, PA was purchased from the Hayes family in 1946 and is still the home of Valley Dairy ice cream. A Pennsylvania corporation was formed at this time with the name of Fairview Dairy, Inc. Valley Dairy is the trade name.
Valley Dairy has always been a premium ice cream from these early beginnings. Quality has always been first – fresh ingredients, premium flavorings, real fruit, hand packaging, and careful control of the product. Times have changed and technology has expanded over the years, but there are two things that will never change in Valley Dairy ice cream – quality and value. Valley Dairy ice cream is sold through Valley Dairy Restaurants and select distributors.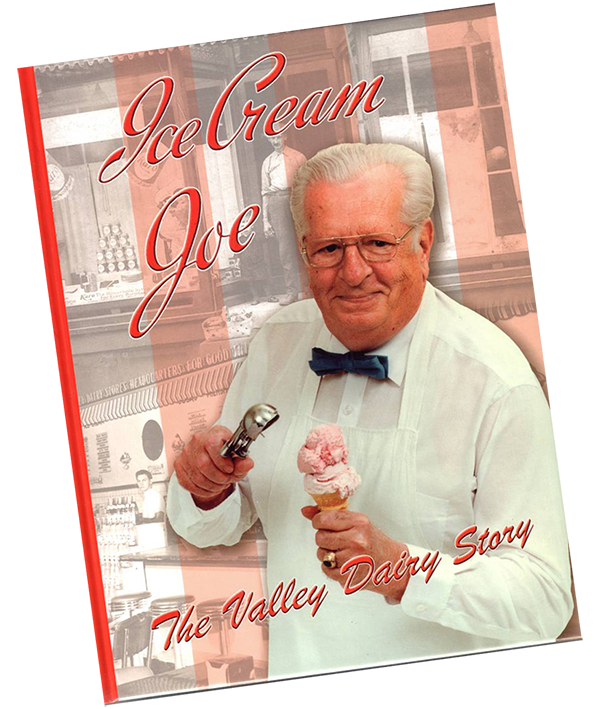 Ice Cream Joe... The Valley Dairy Story
This 8 1/2" x 11" hard bound book features over 200 pages filled with hundreds of illustrations covering the early years of Valley Dairy and Ice Cream Joe. In addition to Ice Cream Joe and the development of a business through three generations, the book contains photos of antique dippers and ice cream equipment, the history of ice cream, old trade publications and more. A great source of ice cream memorabilia.
Interested in Purchasing this Book?
To Order by Mail: Enclose a check or money order for $29.95 plus $1.80 tax for each book (free shipping) and send to: Valley Dairy, 1562 Mission Road, Latrobe, PA 15650. For more information, call 724-537-7111